After a month of community engagement and refinement, the LeDroit Park Civic Association approved the LeDroit Slow Streets proposal (map above) at its June 23, 2020 meeting. In this post, we will focus on the merits of this proposal for those who are just tuning in. For a refresher on the purpose and elements of Slow Streets, see previous posts.
LeDroit's Uniquely Narrow Sidewalks
Like many DC residents, LeDroit Park residents struggle to maintain the recommended 6 feet distance while walking on the sidewalk. However, due to its unique history of development, LeDroit Park is actually unusual in having a disproportionate number of particularly narrow sidewalks, compared to any nearby neighborhood. About two thirds of our sidewalks have a right-of-way that is 8 feet or less, shown in red in the map below.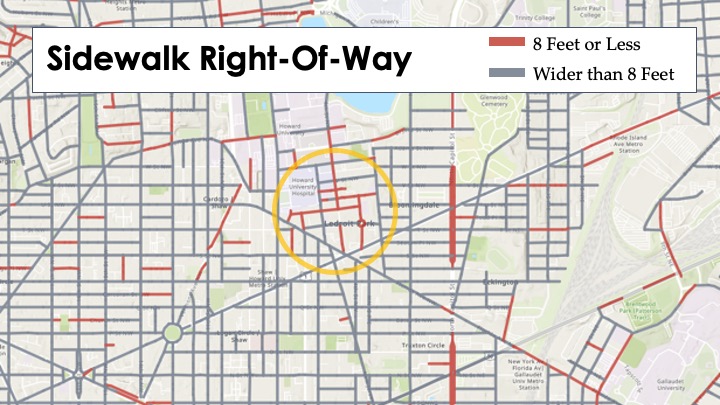 The data shows our unique challenge in traveling safely, and this is backed up by experience. A survey of the neighborhood showed that:
93% of respondents witness vehicles speeding through local streets sometimes or often
86% experience difficulty maintaining 6 ft. distance while walking in the neighborhood
But when trying to walk in street, only 18% felt completely safe in doing so
LeDroit Slow Streets – The Perfect Place for a Summer Walking Tour
We propose a network of Slow Streets centered around the LeDroit Park Heritage Trail, titled "Worthy Ambition," which highlights the neighborhood's rich social history and beautiful architecture. The network would also connect the newly-renovated Park at LeDroit and create first-mile/last-mile connections to the Shaw/Howard Metro station, Florida Ave. bus routes, and neighboring business corridors.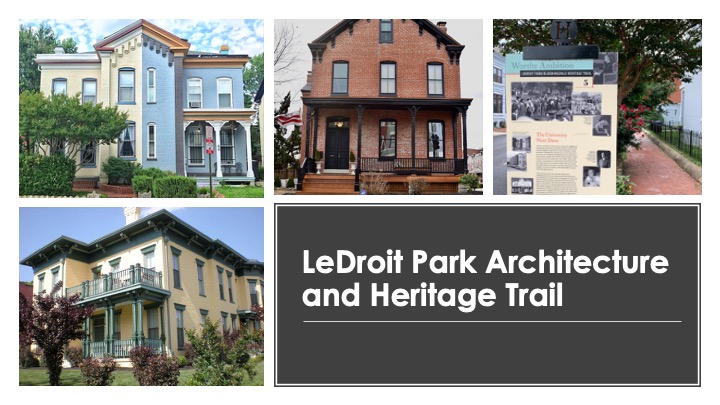 With many facilities closed, the whole city needs outdoor activities this summer. A self-guided walking tour through LeDroit Park is a perfect activity!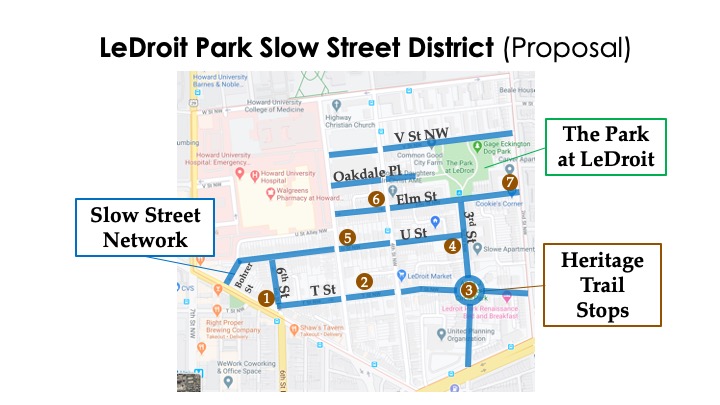 Specifically, we propose the following network be converted to Slow Streets:
Bohrer St NW
T St NW from 6th St NW to 2nd St NW
U St NW from Bohrer St NW to 3rd St NW
Elm St NW
Oakdale Pl NW
V St NW from 5th St NW to 2nd St NW
6th St NW from T St NW to U St NW
3rd St NW from Florida Ave NW to Elm St NW
Careful Consideration of Through-Traffic Routes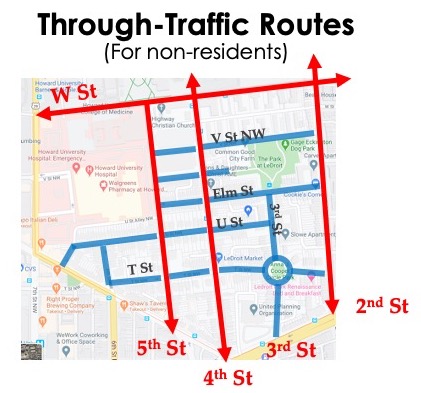 This plan carefully considers connections to Howard University, the Howard University Hospital and the Washington Hospital Center and leaves the key routes open to through-traffic:
DDOT's Criteria and Next Steps
The LeDroit Slow Streets plan meets DDOT's criteria for prioritization because it would:
Serve as a first-mile/last-mile connection to the Shaw/Howard Metro station, Metrobus routes along Florida Ave, and essential businesses in the Shaw, LeDroit Park and Bloomingdale neighborhoods;
Encourage recreation by providing safe access to the LeDroit Park Heritage Trail and the Park at LeDroit; and
Calm traffic, particularly on east-west streets that are currently observed to host speeding vehicles and cut-through traffic.
This proposal has been forwarded for consideration to ANC commissioner Anita Norman, ANC1B, Councilmember Nadeau, DDOT community relations staff, and the office of the mayor. It is ultimately DDOT's decision whether to accept this Slow Street nomination. We thank everyone for their consideration and help in making LeDroit Slow Streets a reality!