In response to social distancing needs during the coronavirus pandemic, DC has announced it will create at least 20 miles of "slow streets" over the course of the summer. The LPCA is excited to share a concept for a Slow Streets District in LeDroit Park, centered around the LeDroit Park heritage trail. If approved, LeDroit residents would gain space for safe outdoor socializing and activities and our broader DC neighbors could enjoy a self-guided walking tour of our beautiful neighborhood in a safe, socially-distanced manner.
Take the survey to provide your feedback.
Join us at our regularly scheduled virtual meeting on June 23rd at 7 PM — log in details to come.
What is a "Slow Street"?
A slow street, also known as a Shared Street or Healthy Street, is for local-traffic only and has a 15 MPH speed limit. Drivers should expect to share the street with people walking, socializing, biking, and carrying on other activities. Slow streets expand the space available to live, play and travel in a safe manner during this pandemic.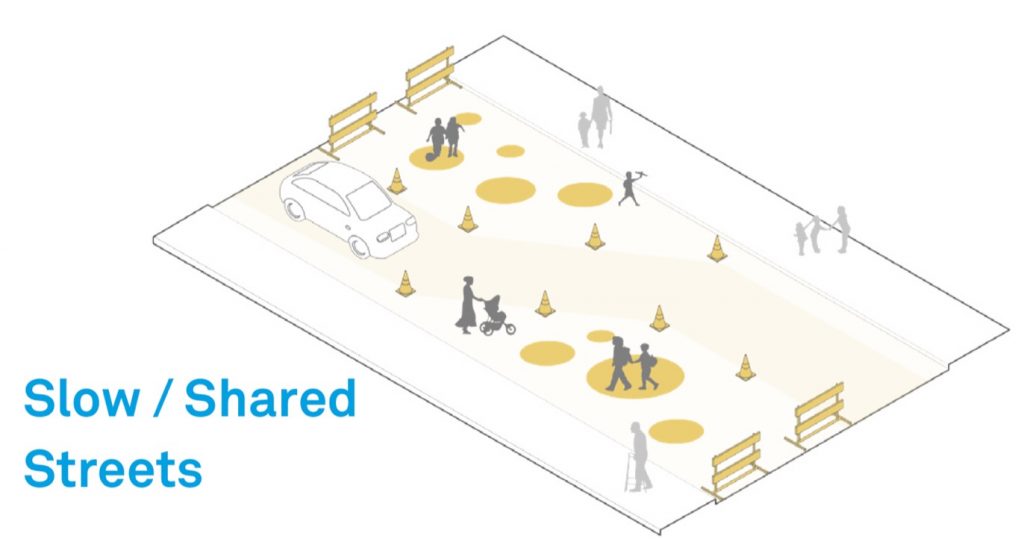 Slow Streets would also be a great way for our DC neighbors to take a self-guided walking tour through LeDroit Park's heritage trail in a socially-distanced fashion. If there's one thing we all need right now, it's something to do outside our homes!
Why now?

Slow Streets are a way to adapt our public space to changing needs during the Coronavirus pandemic. Mayor Bowser announced the policy in her May 29th press release. Councilmember Nadeau is also supportive of the idea.
This policy is very new. We know proposals are submitted through the ANC and selected by DDOT, but are awaiting further details. In the meantime, we see an urgent need and want to get a head start on planning a proposal that is right for our neighborhood.
Which Streets might be included?
The initial concept includes Slow Streets on sections of T St, U St, Elm St and 3rd St NW: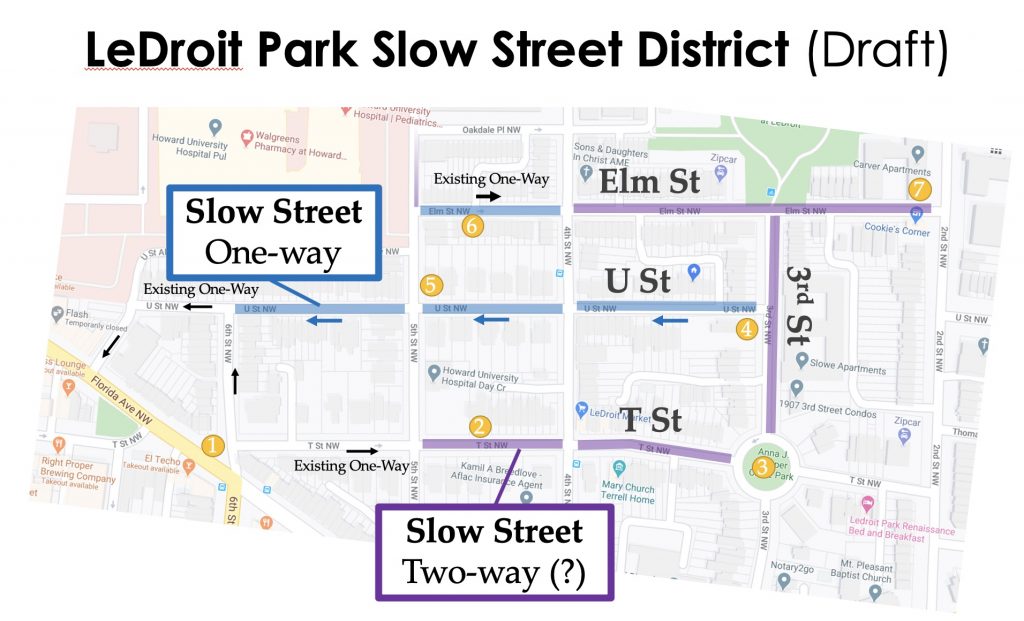 Note that we propose for U Street to be temporarily made one-way in the direction of the existing street parking (i.e. east to west). This would reinforce the local-only nature of the street without affecting anyone's access to parking.
These streets were selected because they connect the core heritage trail markers; don't affect bus routes; provide reasonable routes for through-traffic; and generally dead-end at a clean boundary like a T intersection or the circle. Furthermore, the plan focuses on LeDroit's east-west streets because they generally do not connect directly to the grid outside the neighborhood and thus are particularly appropriate for local-only usage.
However! This is just an initial concept and we want to hear from you. What works or needs adjustment? Take the survey to let us know.
Would Parking be Affected?
No! There would be no change to residential parking.
What about through-traffic?
The vast majority of through-traffic in LeDroit Park is on our north-south routes: 4th, 5th, and, to a lesser degree, 2nd. 3rd and 6th are key gateways into and out of the neighborhood. Therefore, this plan proposes to maintain those key routes to cause as little disruption as possible to through-traffic. This leaves the bus-route and ambulance route on 4th street untouched, and keeps 5th street open for Howard Hospital and Howard University connectivity.
What's Next?
There are two important steps to help us refine this concept:
Take the survey to provide your feedback. Also, let us know if you'd like to be a "block captain" to help us promote our plan with the DC government.
Mark your calendar to join us at our regularly scheduled virtual meeting on June 23rd at 7 PM — log in details to come.
Thank You!