An invitation from HUH: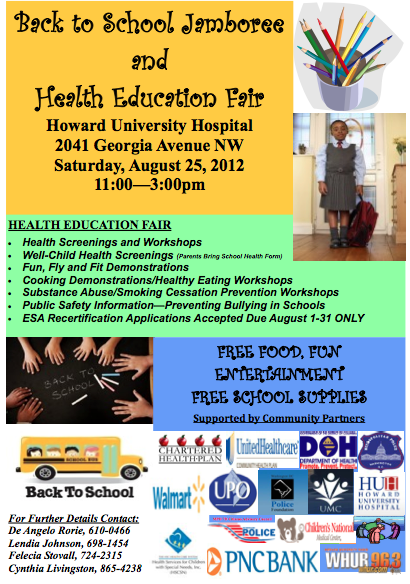 "On Saturday, August 25, 2012, Howard University Hospital is partnering with the Metropolitan Police Department, United Planning Organization and other community partners, for a Back to School Jamboree.   The event is an effort to help families and students returning to District schools to get a healthy jump start for the new school year. Scheduled activities will take place from 11 am to 3 pm, both inside the Hospital and on the parking lot entrance to the Tower Building.  The event will feature free health screenings, workshops, free food and music entertainment."
Please feel free to contact Howard University Hospital, Director of Community Services, Ms. Cynthia Livingston at (202) 865-4238 if you have any questions about the event.
Back to School Event Howard University Hospital 2012 Flyer English and Spanish
Back To School Health Education Fair Fun for Children and Families