Neighbors,
Last night I had the opportunity to spend time with 306 Police Service Area (PSA) Officers handing out MPDC Burglary Prevention Guide.  Here is a quick guide of Burglary Prevention Tips from the National Crime Prevention Council: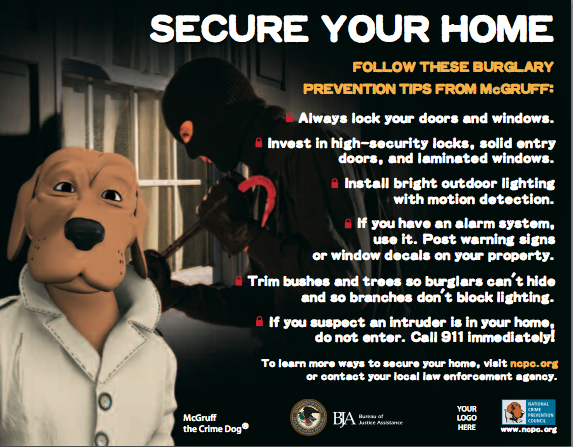 Many neighbors I spoke with on the street last night are concerned with crime in the neighborhood.  You can take measures to increase public safety in LeDroit Park.  Here is how:
1.  CALL 911 NOT 311 and Report ALL crimes!
I often hear from individuals that heard about a crime or may have been victims of crime and do not report the crime.  If police are unaware of crimes taking place in the neighborhood they have no way of sending additional resources to address the issues.  By reporting a crime you may save your neighbors life!
Options for reporting non-violent crimes and crime tips:
MPDC Anonymous TIP LINE 50-411
2.  Get to know your neighbors!  Your neighbors will be the ones that will be able to notice out-of-the-ordinary things taking place at your home.
3.  Leave your lights on at night!  Light deters crime! If you are renting, please ask your landlords to invest in increased lighting, they probably will do it!
Join the public safety committee e-mail Jana Baldwin at ledroitparknwp@gmail.com and get to know police in the neighborhood!  They want to hear about your concerns.  Our PSA Lt. Alberto Jova is available to address crime prevention issues as well alberto.jova@dc.gov.